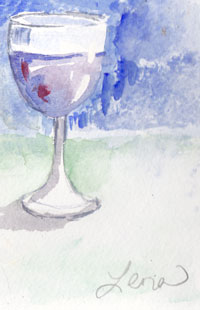 Adar is the Jewish month that contains Purim, a fun holiday with costumes, hamantaschen, and reading of the Book of Esther. The Adar blog carnivals are a good way to learn about Purim (and so much more).
Thank you so much to Phyllis aka Imabima who is hosting Haveil Havelim and gave top billing to JPiX. Learn more about JPiX and submit your own relevant photos or artwork on the JPiX page. The next JPiX will be hosted by Ilana-Davita on March 12.
Thank you to Yosefa for hosting the Adar Kosher Cooking Carnival. Visit the KCC post for delicious recipes and more.
Watercolor on the right is a detail from a painting I did in preparation for the Shabbat painting on this post. I love painting wine glasses.