Voices of Etz Ahaim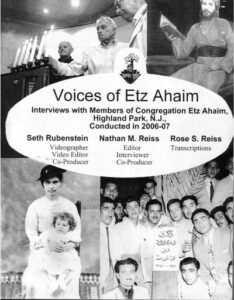 Attention local history buffs! Here's a book you won't want to miss:
Voices of Etz Ahaim. Nathan Reiss and Seth Rubenstein paired up to create a wonderful collection of biographies of many of the diverse congregants of Congregation Etz Ahaim, a Sephardi Orthodox synagogue in Highland Park, New Jersey.
Learn about how Rabbi David Bassous was born in India, grew up in London, became a rabbi in Israel, had his first pulpit in Vancouver, and then came to Highland Park. Liselle (Elisheva) Badache grew up in war-torn Algeria. Behzad Hakakian, brother of Roya Hakakian, speaks of growing up Jewish in Iran. One of the oldest members of Etz Ahaim, Al Benzilio, whose parents were from Salonika, reports on the original building in New Brunswick, and how the synagogue was named after one in Salonika.
Pictures enhance each of the biographies. Twenty two people of varying ages and backgrounds were interviewed for the book.
The book was available via the Etz Ahaim website, etzahaim.org; you can probably contact the webmaster to see if you can still get a copy. There is one copy in the reference section of the Highland Park Public Library.