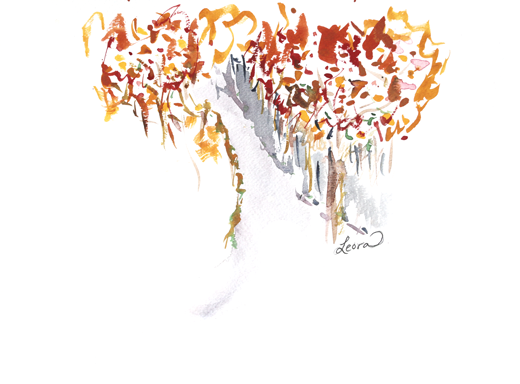 This is my response to exercise 13 from One Watercolor a Day: "This is a memory painting. In your mind's eye, think of a scene in nature that left an impression of strong color with you." I had just been looking at fall trees in Highland Park, New Jersey, but I got my mind to travel back to autumn in Newton, Massachusetts, where I spent my childhood years. I also thought of a winding road in Vermont or New Hampshire. This imaginary landscape takes place on an autumn day in New England – I see colorful foliage on a windy, uphill road.
I am quite pleased with this watercolor. It reminds me a bit of a drawing by Leonardo da Vinci of a copse of birches. And that drawing I remembered in my subconscious mind from years ago from a book called The Art of Drawing by Bernard Chaet. The influence is the composition – note the placement of the birch copse. There is plenty of so-called "white space" on the drawing. One doesn't have to stick the subject front and center with little room on the edges.
Do you have any artists, drawings or paintings, authors or books who enter your subconscious while you are creating?