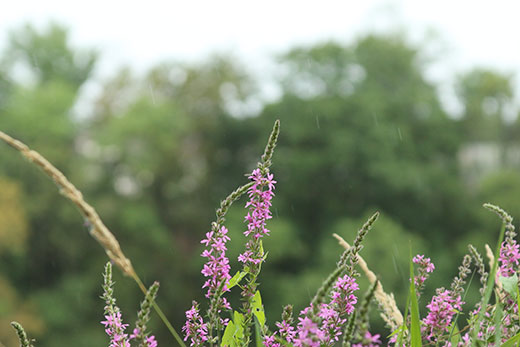 According to Wikipedia, there are many kinds of liatris. These purple flowers grow by the Raritan River at the edge of Donaldson Park, a large county park situated in Highland Park, New Jersey.

Three weeks ago, when my daughter was in camp and I had a little more time, I went to Donaldson Park and took some photos. I took several of the Raritan River, such as this one with the tall, bare tree at the river bend. I really enjoyed the Raritan River liatris, the purple spikes bursting out of the sandy banks by the river.

It was raining that day, but not enough to get me soaked, despite the fact that I had not brought a raincoat.

In this photo, you can see a little of New Brunswick, New Jersey – that's where some of Rutgers University resides. New Brunswick is more urban than Highland Park, but it is still small, especially compared to Philadelphia or New York City. Or Newark or Trenton. Actually, all you see is a bit of the bridge of the route 18 highway.
In other nature news, I started filling my bird feeder again (it got neglected as I paid more attention to my garden, but as I explained to my kids, only in the winter am I really concerned that the birds in our area need food to eat). I've seen blue jays, a cardinal and mostly lots of sparrows. Maybe soon I'll have more bird photos.