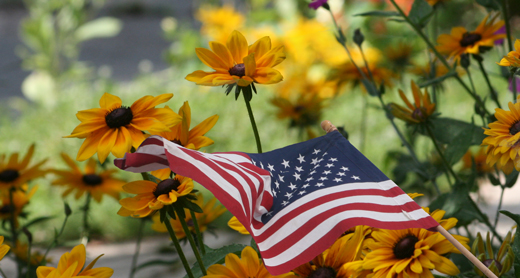 I was in the mood to do something creative this morning, so I took a photo of an American flag (similar to this U.S. flag photograph, both shots were taken at the Asbury Park boardwalk last year) and imposed it over a recent shot that I took of the rudbeckia in my garden. I used a mask in Photoshop to get the background of flowers to appear under the flag. The difficult part is the edges – one carefully has to go around and eliminate all the sky edges from the original photograph.
Happy Fourth of July.
Here are the two original photos used to create the image above:


The top one of rudbeckia or black eyed susans was taken in my front yard. The bottom one depicts a U.S. flag flying on the Asbury Park boardwalk.