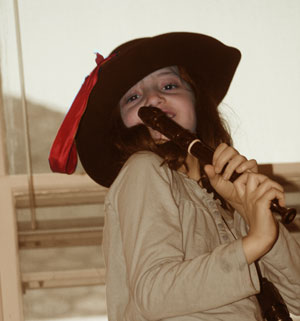 Unlike the original story of the Pied Piper of Hamlin, in which many children may have died of the plague, the Pied Piper of Highland Park is the story of a girl who likes to put on a show. And her mother who likes to play with Photoshop.

Her mother took all the background out of the original photo, except for a little on the right, after converting to sepia. Except for the red ribbon and the girl's face.

A Photoshop brush of a star helped create a vibrant background. No rats were involved in this Highland Park project. And no children died of the plague. Thank goodness!