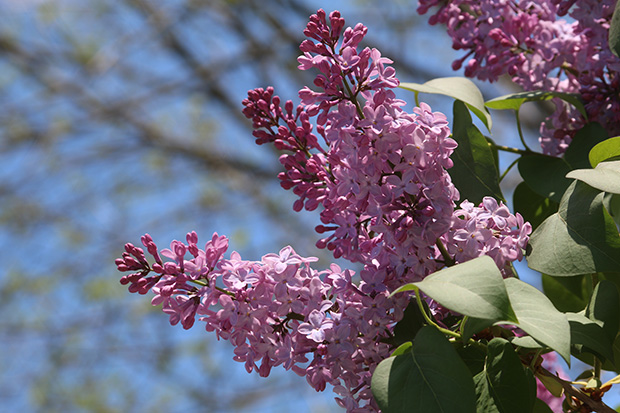 It's a lovely time of year in Highland Park, New Jersey. Lots of trees, bushes and flowers are in bloom, such as this lavender lilac. Did you grow up smelling lilacs in May? I remember them as a child growing up in Newton, Massachusetts; I would walk down the street and smell this lovely scent.

This elegant dogwood is in my neighbor's backyard. Several years back I painted a watercolor of this dogwood in bloom. My dogwood photo from 2008 seems to get a lot of pins on Pinterest.

Azalea bushes are quite popular in Highland Park. This one is in my backyard. Give a few weeks and the blooms will be full and red. Others are pink or white. Azaleas like acidic soil – Highland Park, New Jersey soil cooperates. Tomatoes also do well. I've planted marigolds in my front yard – those have germinated. I've also seen the nasturtium seeds germinate (I planted those, too; the seeds look like shriveled chickpeas). My chamomile seeds were started in a little box – I've got those germinating as well. My hydrangea is still alive – it started to grow green leaves. Will it get munched right down by a deer like what happened last year? Or will I be rewarded with hydrangea blooms?

Here are dogwood blooms in front of lilac blooms.
What's in your backyard?
For more nature notes: