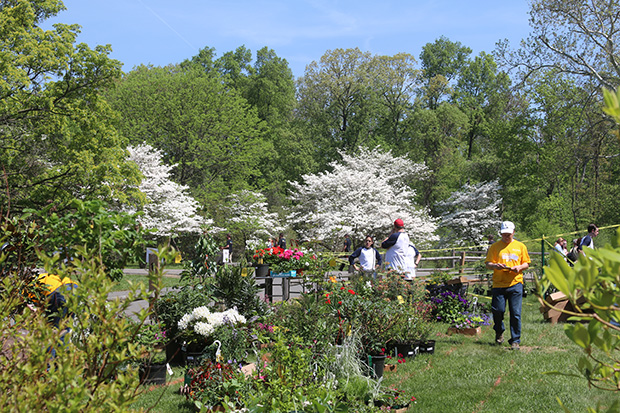 Every year in early May there is a wonderful plant sale at Rutgers Gardens. I went with a friend on Friday and met another friend there. I bought: snapdragons, petunias, Rutgers tomato plants (I've been growing those for the past few years – not too big, not too small, and they are developed at Rutgers!), two kinds of rosemary and some broccoli plants. Here's to praying that the broccoli plants do not get eaten by a ground hog or by deer. A friend sent a link to wolf urine packs – should I try those? Another idea was sticking garlic near them. We shall see. One friend bought swiss chard and eggplant; another friend purchased a variety of cilantro. All the plants at the sale are top quality. Last year I bought a hydrangea plant – the leaves got eaten by a deer before it flowered, but happily this year despite being only sticks in the winter it is now full of green leaves again.

Here is one of the snapdragon plants now in front of my house. I got a mix of yellow and magenta/pink snapdragons.

My petunias are now planted in a sunny corner of my yard, at the edge of the sidewalk and the driveway.

This tulip is growing in front of my porch. No, I did not get at the Rutgers Plant Sale, nor did I plant it last fall. The tulips that are growing on my block seem to be the ones that survived being eaten up by deer.

Finally, my strawberry plants (which I planted about ten years ago?) have those white flowers. Next step: juicy red strawberries! No more hunting for half decent organic strawberries in the store. For two weeks, we get a marvelous treat. Must make sure to pick them – last year we were too busy and neglected to pick the last bunch (they turned to mush on the plant).
Good news! I got my watercolor paints out again today (they've been away in the closet far too long). I did a quick painting of my garden using an exercise from One Watercolor a Day. Soon enough, I will have a watercolor that I will post on this blog. Stay tuned!