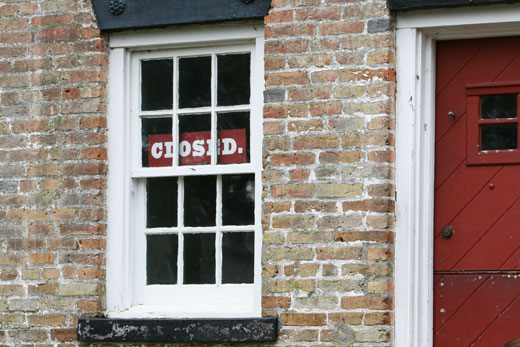 We visited Allaire State Park back in early November. Here are some of the doors and windows of that pretty park. The above building in the historical village was closed, but many were open.

Strictly speaking, this is not a door or a window, but it is OPEN – so it's like a gateway to the bakery. I enhanced the saturation of the colors in Photoshop.

We were able to visit the original home of the Allaire family. As I said on a previous post, we were not allowed to photograph inside, but here's the doorway to that interesting home. It was said to still be inhabited by a descendant of the original Allaire founder in the 1950's, and that 1950's owner kept a horse in his kitchen. Eccentric.
This was a vertical photo, so I increased the canvas size to make it horizontal, and then I used the clone stamp tool and the blur tool to get the main part of the photo to extend a bit into the side areas.

What is that white board that looks like a door but is curiously up too high to be a door? Where there once steps there? I didn't notice this until today, when I was looking through these photos. Does that happen to you; do you find mysteries in your photos that you didn't recognize when you were on the scene?

These are windows in the train of the Pine Creek Railroad, which is next to the Historical Village. The train ride just goes around in circles, but we did get to see some deer as we circled about.
For more windows and doors, visit Window Views (hosted by Mary the Teach):