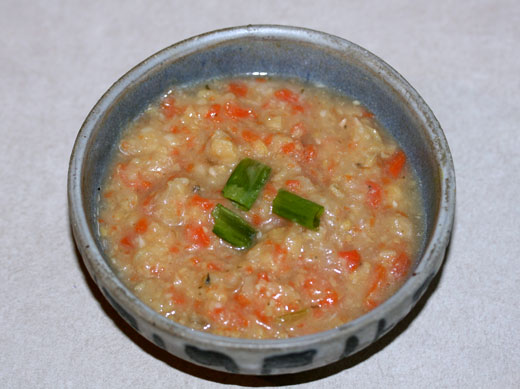 This chickpea soup can warm your soul, whether it's summer and served cold or fall and served warm. I got the recipe from the Macrobiotic Recipes page on Facebook. The original author is Montse Bradford, and I added amounts and tweaked the recipe a bit.
INGREDIENTS
chickpeas – 8 oz.
kombu (or a little bit of any kind of seaweed)
1 large carrot
1 onion
1 stalk celery
garlic – 1 clove
1 tsp. olive oil
1 tsp. miso
Garnish (optional): cucumber, bread croutons, parsley, spring onions.
How to Make the Chickpea Soup
Soak chickpeas overnight with plenty of cold water. Discard soaking water. Place chickpeas in a pressure cooker or a crock pot with the kombu and water completely covering the beans. Bring to a boil, discard any loose skins or foam that arises to the surface. Cook until till soft.
Saute separately some finely diced onion and minced garlic with some olive oil for 10 minutes. Add diced carrots and celery to the onion. Let it cook for 5 minutes, then add it to the chickpeas. Simmer for 15 minutes. Put the soup in the food processor (or use a stick blender) and blend for a short time, so it's a bit chunky. Season to taste with some miso. Make sure to add the miso when it's still warm – the miso will blend better with the soup. You can serve this chickpea soup cold or warm.
I garnished my soup with scallions.