Mushrooms: Maitake and Shiitake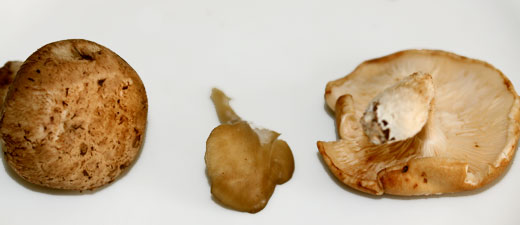 Pictured above, from left to right, are a portobello, maitake, and shiitake mushroom. I bought these at a local Asian supermarket on Route 27 in Edison called H-Mart.
Why use these special mushrooms? Why not just stick to white button mushrooms? In addition to the excitement of having something new in one's soup, maitake and shiitake have medicinal benefits. Here's a post on the health benefits of maitake (slows tumors, protects healthy cells from becoming cancerous, may reduce the need for insulin and more). This post on the health benefits of shiitake mushroom is on cancer.org. Susun at Planet Thrive writes about medicinal mushrooms in general.

Here are a bunch of maitake mushrooms.

This is a shiitake mushroom. Sometimes I put a shiitake mushroom in a mug of hot water and drink it the way someone would a cup of tea.
I'm going to use them in mushroom barley soup tonight. If I have leftover mushroom barley, sometimes I stuff it into my Friday night chicken. I've also made mushroom lentil soup. Here is another mushroom with shiitake soup.
Do you have any favorite mushroom recipes?