Shiitake Mushroom Soup in Red Bowl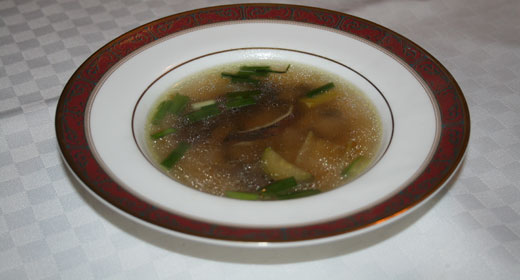 I was in mood for a mushroom soup with no grains, and so I came up with this recipe. To photograph it for a post, I put in a red china bowl. This prompted my daughter to eat it; she insisted on eating it in the red china bowl. You see, presentation does count!
Ingredients
8 oz. shiitake mushrooms
8 oz. baby bell mushrooms
1 leek
1 zucchini (or substitute other greens, such as bits of kale or collards)
1 onion, chopped
1 tsp. olive oil
1 tsp. mirin (rice wine – or substitute 1 tsp. dry wine)
1 tsp. miso
chopped scallions
1 tsp. sea salt
How to Make the Soup
Saute the chopped onion in a bit of olive oil. Slit the leek in half; wash out any particles inside the leek. Cut in half and put in with the onion. Chop the zucchini and put it in with the onion. Add chopped mushrooms. Cover with water and add at least 1 cup more water. Cook until all is tender. Add sea salt and wine. Add miso at the end. Sprinkle with scallions and serve.