Sky Watch: Urban Drama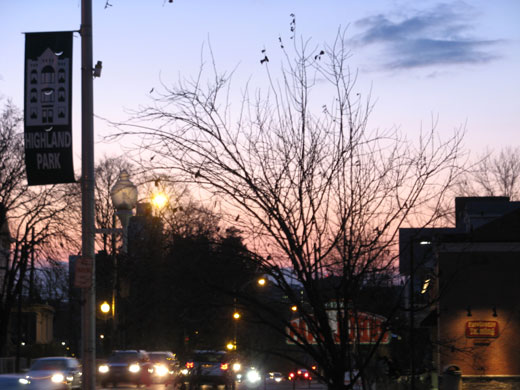 I would prefer just to be writing about the sunset my daughter and I saw on Raritan Avenue in Highland Park earlier this week. When we got into the car and I took my camera, she made me promise not to photograph any flowers on our trip. But she didn't say anything about sunsets.
Unfortunately, there is too much urban drama going on in the home city of photo blogger magiceye. As I type this post, I am wondering about the safety of the Chabad rabbi and his wife, trapped by terrorists in the Nariman house in Mumbai. (Update: Chabad Rabbi and his wife in Nariman house reported killedtortured and then murdered, and more than 125 too many reported dead in Mumbai). Thank you to Dina in Jerusalem for posting about this. To use Twitter for updates, go to http://search.twitter.com/search?q=%23mumbai or click http://hashtags.org/tag/mumbai/. For updates on Chabad, http://search.twitter.com/search?q=nariman (Nariman is the name of the Chabad house in Mumbai).
An upsetting post about the Taj by an eyewitness
In the spirit of Thanksgiving, I'll say I'm thankful that there is an America.