Ballerina in Teal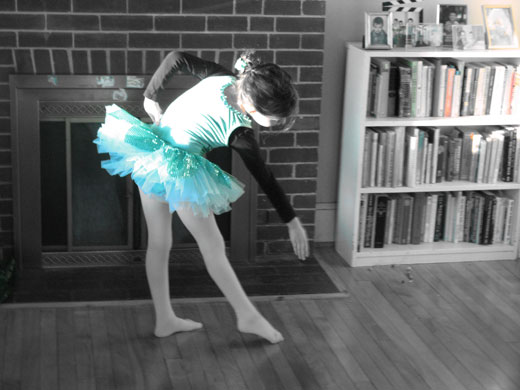 This blog got an overhaul this morning, but you may not notice many changes (feel free to comment on the ones you do notice). I updated the theme of the blog to a child of the Twenty Ten theme. What does that mean in English? It just means the code is more 2010 than the previous theme, which I created myself from scratch in 2007. So it helps me out technically with adding new plugins to the blog, such as the Add This plugin so you can easily share a post on your favorite social media site, such as Facebook or Twitter.
There is a contest on my other site, Websites for Small Biz, that offers free postcards. Yay – my first giveaway. Stay tuned to either of these blogs to learn more.
The girl? She's my daughter in Winter 2009. She's taller now and even more graceful a dancer.