Summer Stock: Willy Wonka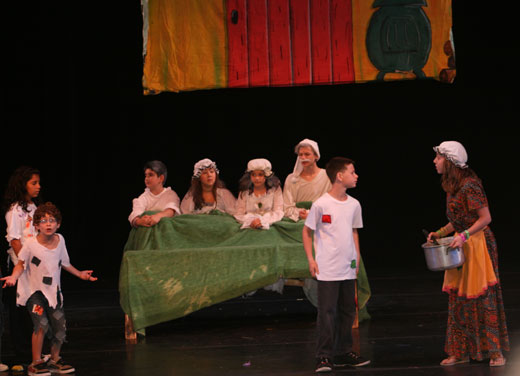 Last week was the final performance of my daughter's summer at Middlesex County College Theater Camp. The children performed Willie Wonka, based on the first movie, the one with Gene Wilder and many great songs like Oompa, Loompa, Doopa De Do. The scene above shows Charlie, who is poor and wants to win a Golden Ticket to visit Mr. Wonka's factory, his mother and his four grandparents (in the bed).
When you have read the book, sometimes movie or play versions can be a little irritating. In this play, Charlie throws down the chocolate bar when he doesn't find a Golden Ticket in it. In the book, he savored every morsel of a chocolate bar; he would never throw one down. I tried to explain that to my daughter, and since we own the book Charlie and the Chocolate Factory, she was able to read that scene for herself.

You can see all of Charlie's grandparents wearing white nightgowns. In one scene when all the grandparents are in the factory, they and Charlie float upward. This was accomplished by turning off the lights, and teenagers wearing dark colors came in and held each grandparent up. Since the grandparents and Charlie were wearing white, they glowed, and they really looked like they were floating. Clever!

In this scene, a patient sits on the couch and tells of her dream of finding a golden ticket while her psychoanalyst listens.

One minute later the analyst is demanding to know where the ticket is. She chases her patient off the stage demanding.

My daughter played one of Veruca Salt's sisters. Here they are, looking rich and snobby on the stage.

One minute later they break into song.

When Willy Wonka finally appears on stage, at first, you think he is a decrepit man who can barely walk. He then jumps into a jig and produces a contract.

Charlie is the first to sign; after all, he is poor and has nothing to lose.
Veruca Salt wants a hen that lays a golden egg. Her father tries to bargain with Mr. Wonka.