Tu B'Shvat: Birthday of the Trees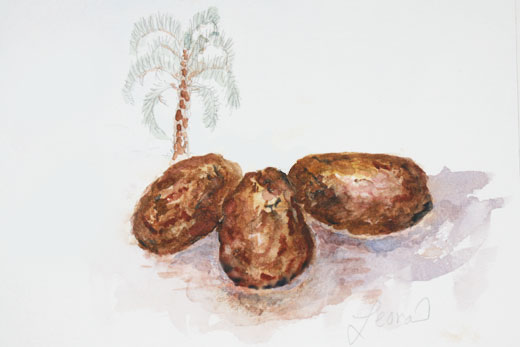 Tuesday night and Wednesday this week is the Jewish holiday of Tu B'Shvat, the fifteenth of the month of Shvat. I like to refer to the day as a birthday party for the trees. One might think of Tu BeShevat as a Jewish Arbor Day. As it a much bigger deal in Israel than outside of Israel, I asked some of my blogger friends in Israel to tell a bit about the holiday. Here are the responses:
Hannah of A Mother in Israel wrote in an email two weeks ago: "It's pouring here. Tu Beshevat is often wet and muddy, and the worst time of the year for planting trees!" She suggested I share this post she wrote for Green Prophet about this New Year for Trees. "The rabbis wanted to set a specific date during the agricultural season to begin counting the age of the tree. They chose one in the middle of the rainy season, when no one was likely to be planting. That way it would be easier to know whether the fruit, which almost always buds after Tu B'shvat, belonged to this year or to the previous one." But the modern version does indeed include tree planting.
Batya of Me-Ander talks about a little orphan almond blossom tree that grew near her home.
Sharon of Real Jerusalem Streets:


This paradise flower and other Tu B'Shevat visual treats can be seen on her Tu BShvat post. And while taking a scavenger hunt in the Old City of Jerusalem, she and her blogger friends found a tree ripe for Tu B'Shvat.
Julie of Israel Inspirations Art sent me a photo from her son's nursery school Tu B'Shevat program. This is a cropped detail of one her son's craft projects:

Mrs. S. of Our Shiputzim added (edited a bit on my part, apologies to Mrs. S. if I edited too much):
"According to the Talmud, it marks the beginning of the new agricultural year – which has halachic and practical significance for those of us who are fortunate to have fruit trees in our backyards – and in many schools, it marks the beginning of the spring semester.

Tu B'Shvat is also the day when kids across the country head outdoors and plant trees, and it's the day when many families celebrate lovely Tu B'Shvat Seders.

But mainly, Tu B'Shvat is a time to appreciate Eretz Yisrael (the Land of Israel) and its myriad incredible blessings. Tu B'Shvat is a wonderful opportunity to stop and recognize all the amazing wonders which surround us here in Israel. "
• • •
And this one is for the search engines: how many different ways can one spell Tu B'Shvat • Tu Beshevat • Tu Be Shevat • Tu B'Shevat •Too Be Shevat • Tu B'Shevat • Tu BiShevat • Tu BiShvat • Tu BShvat • Too Bi Shevat • Too B'Shvat