Relaxing by Raritan River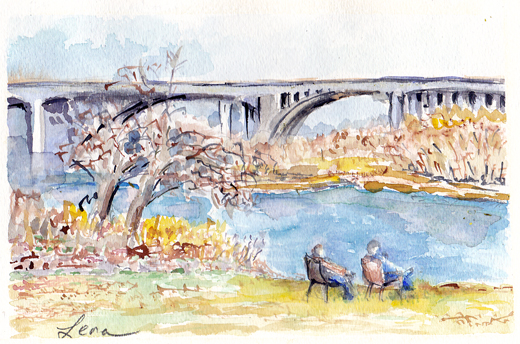 This Raritan River watercolor was painted last week; the original photograph was taken in the winter, thus the bare trees. I suggest the end result is a bit sketchy, but I liked it enough to show the watercolor to you, my blogging public. I am considering painting an up-close of the two men sitting on chairs (I am guessing they were fishing before relaxing). For ideas for watercolor inspiration of painted figures, I looked at paintings of Edward Hopper and John Singer Sargent. Edward Hopper's figures were stiff and not depicted as small as the ones I was working on for this painting. John Singer Sargent, on the other hand, is a master of both figure and of watercolor. I can only hope that by more hard work and practice in watercolor I can come close to achieving some of his great skill in depicting landscape, figures and water scenes.
For those of you that may know our local Central New Jersey landscape, the bridge is the one over Route 1. The scene is at the edge of Donaldson Park in Highland Park.