Fashion and Modesty
My daughter is taking an art class in fashion. So she was excited when I volunteered to share some of her drawings in a post: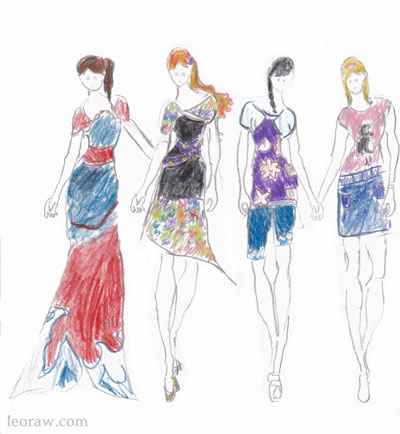 A few questions came up regarding the class. It seems that her art teacher used words to which she was unaccustomed to talk about the human body (the main word in question is b-*-*-b-s). It sounds like her teacher even pointed to that part of the human body while using this language. To give a little background, my daughter and her friends attend a modern Orthodox Jewish day school. So they are unaccustomed to hearing such language in the classroom. One friend felt it was OK to talk that way; another said it would be OK for a science teacher to talk about those parts of the body. I pointed out that sometimes the science teacher talks about the science or anatomy but doesn't bring up the feelings that the words might elicit.
In addition, my daughter told me she was careful to draw dresses that are what is called tznuah – modest. My daughter wears short-sleeved shirts, as I do, but not sleeveless. We also wear skirts that reach close to our knees. In school, she has to wear quarter-sleeves or longer and skirts below the knee or longer. She sometimes wears pants, but she is not allowed to do so in school. As opposed to feeling trapped by these rules, as some girls do, I think they make her feel safe. The one drawing on this post that is sleeveless she explained to me is a bathing suit. In her most recent dance school she was required to wear a dress that had hardly any top at all, so it made her feel naked. She was very unhappy about that outfit.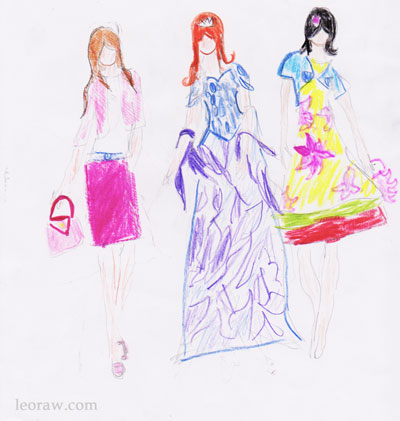 A Discussion on Fashion and Modesty
With the view that people have different cultural norms, and certainly anyone reading this post may have a different viewpoint, upbringing and outlook from my daughter, myself, her art teacher or her science teacher, I have a few questions for you.
Have you ever given much thought to how you dress?
Would you be comfortable with the use of the word b-*-*-b-s in the classroom?
Feel free to discuss in the comments anything I have mentioned. The point is to understand someone else's point of view.
Tell Us Your Favorite Fashion Design
On a lighter note, you could comment on your favorite outfit on this post.