On Blogging Breaks and Old Writing Desk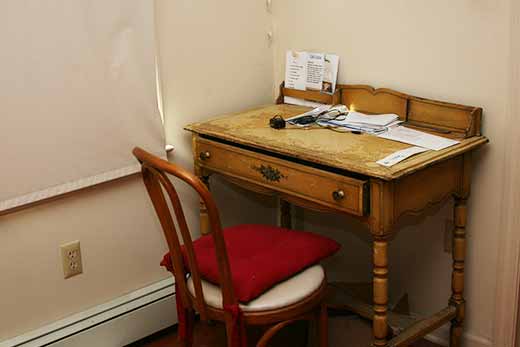 This writing desk used to belong to my mother z"l. My husband expressed some satisfaction when I he saw me use it one day as an actual desk. I was using it to address a few bat-mitzvah invitations. Which brings me to my next topic: blogging breaks. It seems that Purim stretched into pre-Pesach cleaning which then became Pesach and then a few busy work deadlines. Without strong intention I took a bit of a blogging break. I suppose ideally one should say, hello, I am taking a blogging break, but usually life is too busy for that sort of thing. Until after the bat-mitzvah I should just not plan on blogging very much. When it gets really hot in July, then I can get into the blogging swing again (I hate the heat and prefer air conditioning).
About the desk: my mother used to use it to write letters and organize recipes. I wish I had her collection of recipes – I assume it got thrown out at some point. The desk is quite fragile and is falling apart in pieces. I told the movers (we moved it from my father's apartment after he died) that this was the last time the desk was moving (they didn't want me to blame them for the broken pieces, and I don't). But if my daughter gets attached to it, maybe it will move again. Who knows.
I was planning to write a post called Burning Bread and other Pesach Adventures. I have a great photo to go with that post. I'll keep it in mind – maybe someday it will show up. My daughter was the Genie in a recent Highland Park Recreation production of Aladdin – if I had the energy, time and ideas, I might have posted about that. She was hilarious. Catch the next show on July 4th in Donaldson Park – no idea what that production will be.
I wish I were back doing watercolors – but too much else to do right now. Maybe in the summer? We've been having a gorgeous spring – it is quite therapeutic to go for a walk.
I highly recommend the book Like Dreamers: The Story of the Israeli Paratroopers Who Reunited Jerusalem and Divided a Nation by Yossi Klein Halevi. I would write a review, but I returned the book to my brother-in-law. I will just say this: it's hard enough to write a biography of one person. Yossi Klein Halevi portrays quite a few varied people in this easy-to-read and engaging book.
Elsewhere in the Blogosphere
Over to You, Dear Reader
How do you handle needed blogging breaks? Is there anything in particular you might say to your audience? Have you ever gotten attached to an old piece of furniture?