Unlike summer for the rest of the world, summer in the Jewish calendar is a time of sadness. In the month of Tammuz, we remember the siege of Jerusalem. In the month of Av, we mourn the holy Temple, the Bait HaMikdash, that was destroyed not just once but twice. There is a custom not to listen to music during the three weeks between the 17th of Tammuz (siege of Jerusalem) and the 9th of Av (destruction of the Temple).
Painting Music
By the 15th of Av, however, the sadness turns to joy. One of the ways humans experience joy is listening to music. I was fortunate to attend not one concert but two concerts around that time. Rugburn, a band that plays jazz, funk, and rock music, held a concert in local Donaldson Park, so I had a great time not just drawing the musicians' movements but also adding in the surroundings. The Imperial Band of South River plays pop and classical music in the Imperial Music Center of South River; a friend plays with the Imperial Band each month, and I finally had a chance to attend, drawing pad and Uniball pen in hand.
For both concerts I took my drawing notebook. I did quite a few drawings of the musicians. In fact, I paid more attention to the bodily swaying of the musicians that I did the notes that came out of the musical instruments.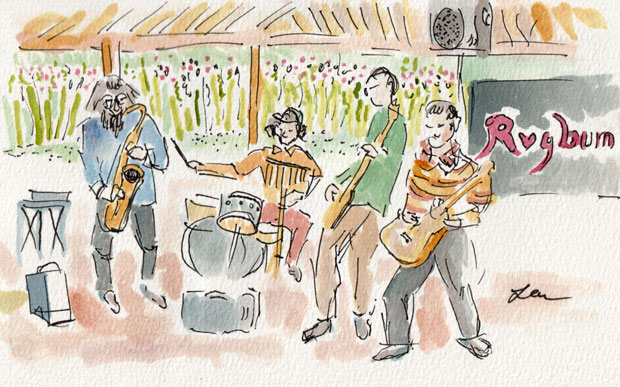 My favorite from Rugburn is this one with the four players swaying to the music and the beautiful reeds and grasses of Donaldson Park swaying in a variety of colors in the background.
You can see more in the art database: https://www.leoraw.com/artcat/rugburn/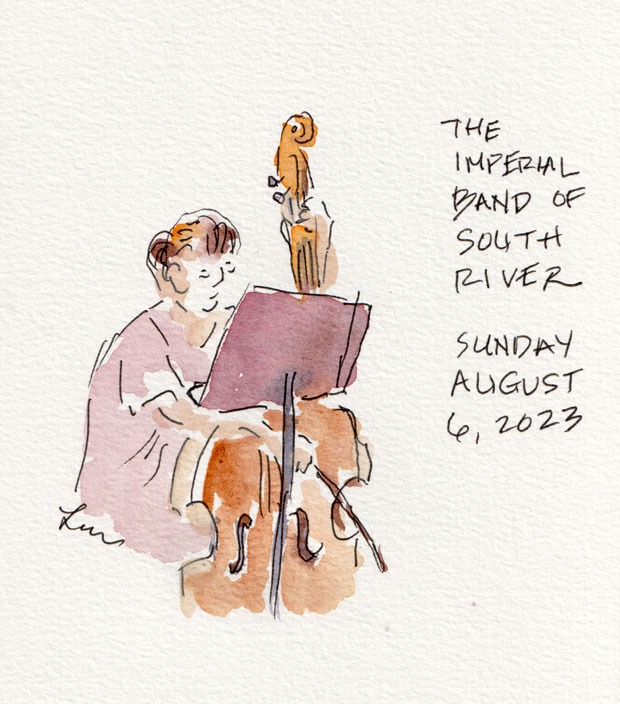 I really like the bass player from the Imperial Band. You can see more of the Imperial Band in the art database.
Preparing for Yom Tov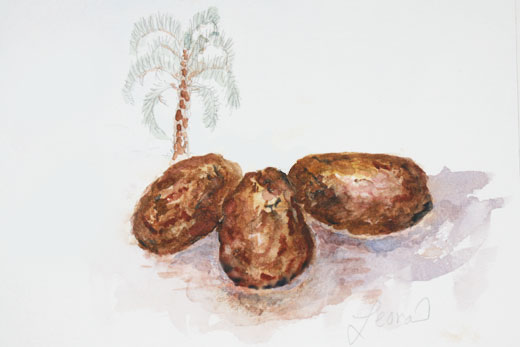 So far, most of my preparation for Yom Tov (holidays) is in my head. I plan to do a Rosh Hashana dinner with as many simanim as I can prepare. Above is a painting of Dates in Front of Palm Tree, watercolor on paper, 2011. Maybe next week I will do a painting of Elul, the Jewish month before Rosh Hashana, which is a time of preparation and asking for forgiveness.
An Art Database
One of the reasons I created an art database is so when potential clients can ask: what works can I buy as prints? I can point to the art database or to a specific category such as Raritan Avenue.
I placed my first order of giclée prints for a client this past week. Giclée is the recommended way to produce archival reproductions of fine art. She had saved screenshots of her favorites my work from the past few years. In the future, I will say to a client: browse through the art database! That's where one can find illustrations that will work well as prints.