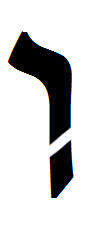 Yesterday Rabbi Bassous talked about the split vav in the parsha of Pinchas. It is the only case in the Torah of a letter being split.
יב לָכֵן, אֱמֹר: הִנְנִי נֹתֵן לוֹ אֶת-בְּרִיתִי, שָׁלוֹם.
Wherefore say: Behold, I give unto him My covenant of peace;
The rabbi explained that it is to show us one cannot achieve peace through violence. (Of course, he said much more, but I can't repeat what he said without misquoting or taking it totally out of context. So I will leave just this piece for you to ponder and explore on your own).