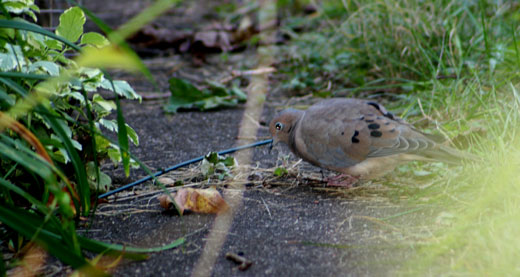 Last week I saw this brown mourning dove wander about in my yard.

Soon after he noticed that I was following him (her?) around with my camera, he settled on this high phone wire in the back of my yard.
Oh, by the way, did you know that Noah sent out a dove: "And he sent forth a dove from him, to see if the waters were abated from off the face of the ground." But before the dove, he sent out a raven. I didn't have any ravens showing up in my back yard.

My neighbor's burning bush is quite spectacular – bright red at this time of year. Ah, another Biblical reference, except the burning bush doesn't show up in the weekly Torah reading until winter time.

Here's the how the dry oak leaf hydrangea flower looks – this photo was taken the same day as the red hydrangea leaf photos.