Last week on May 12 Israel celebrated its 68th birthday. And since I was working, I missed our local celebration (here's a local Edison parade from a few years ago). Well, now I have a little time; I can share with you a few more photos from our January/February trip to Israel.
We went to visit my niece who teaches high school English in an international school north of Tel Aviv. The high school is in a youth village called HaKfar HaYarok – literally, the Green Village. Above is a picnic table with a pot of flowers. Wouldn't you like to study math or social studies in February while sitting at a sunny picnic table?
Old City of Jerusalem, inside Jaffa Gate entrance

Here's my daughter inside the Old City of Jerusalem, right near the Jaffa Gate.

And here's a similar photo inside the Old City of Jerusalem – how is this different from the one above?
Hula Valley, Galil, Israel Views

Ah, birds in flight – probably cranes – at the Hula Valley nature reserve (previous post on this blog).

Even more birds in flight – how they fill the Hula Valley skies.

In many spots in the Hula Valley you can see the Golan Heights off to the east. Here's a dramatic photo of the Heights rising over the farms below. Before 1967 when Israel captured the Golan Heights in a defensive war, Syrian soldiers used to fire shots from the mountains down on the farmers below.
Back to Jerusalem
These two photos (above and below) are both Jerusalem shots. The carnation in a pot is located in the quaint neighborhood of Yemin Moshe, a "suburb" of the Old City of Jerusalem. It was built in the late 19th century. I understand buying a home there now would cost you quite a pretty penny (can you afford a yacht?).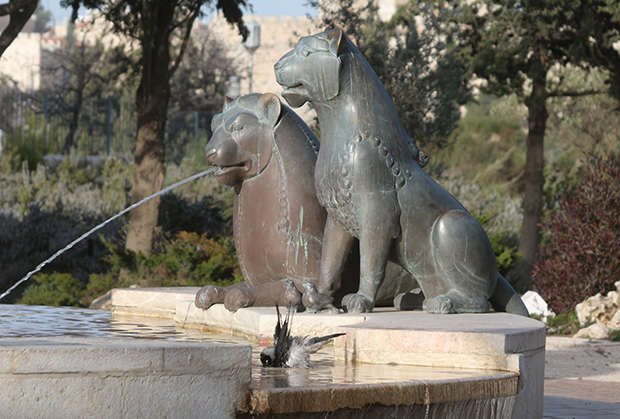 Finally, this is a cute bird diving into a little fountain with Jerusalem lions. It was near our hotel (the Inbal), north of the old train station that was renovated (and we did not get a chance to see – lots to do for our next visit).
Because there is some nature in this post (can you spot some?), I am including this post in Nature Notes: