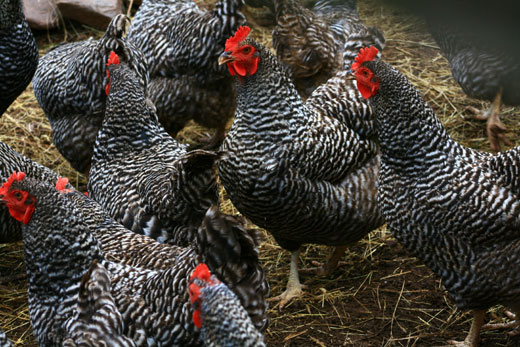 I was looking for a recipe I could make on Rosh Hashana (on holidays observant Jews are allowed to cook, whereas for Shabbat we do all the cooking in advance). I found a recipe called Shabbat in a Pot in the cookbook The Taste of Shabbos. It was delicious, so I repeated it and changed it a bit. Here is my new culinary creation (a chicken rice salsa combination – the new ingredient is salsa – the old recipe used tomato paste and soy sauce, if you prefer that combination).
Ingredients
4 – 7 pieces of chicken
1 zucchini – chopped
1 onion – chopped
2 -3 cloves of garlic
1 peeled and chopped carrot
1 tsp. olive oil (or enough to coat the bottom of your pot)
1 cup of brown rice
1 1/2 cup of water (maybe more)
1/4 – 1/2 cup of salsa
Black pepper to taste
Optional (but delicious if you have them): fresh parsley, sage and/or rosemary, chopped
Optional (if fresh is not available): dried rosemary and/or oregano
How to Make the Chicken Rice Salsa Dish
Use a pot with a somewhat wide bottom (mine was about 7 inches wide at the bottom and 5 inches tall). Heat the oil, then saute the vegetables (onions first, then garlic cloves, carrots and zucchini) until tender. Add the rice, then the chicken. Add salsa, pepper and any dried herbs. Cook for about one hour (until rice is cooked). In the last fifteen minutes, be sure to stir the bottom often, to make sure it doesn't burn at the bottom and the rice is evenly cooked. Toward the end of the cooking, add fresh herbs if you have any. You may need to add a little more water if all has already been absorbed and the dish needs more cooking.
Warning: do not leave this dish once it is cooked on even medium heat for too long. I left it on low medium heat, and the bottom got burnt. If you are doing this right before Shabbat, you can do something called hatmana: wrap it in an old blanket and unwrap right before serving. This is a way of insulating your food without fire or electric heat. Or use a warming tray that provides only a little bit of heat.
• • •
In other news, Pinterest kept sending me emails about signing up for a business account. I finally agreed out of curiosity. One benefit is you get statistics. So it turns out that my most popular pin last month on Pinterest with a leoraw.com url is Rosh Hashana Recipes. I doubt this will help much with my business (I build small business websites), but it is interesting to note what gets re-pinned and increases traffic.
We have one more set of holidays (Shemini Atzeret/Simhat Torah, where we dance with the Torah); a week or two after those holidays, I plan to resume Websites for Small Biz blogging (with an upcoming section on category pages). As for today – it is still Sukkot, so Moadim L'Simcha to all those who celebrate.