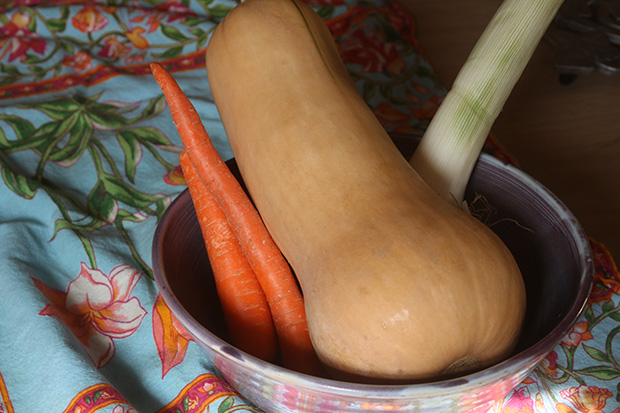 I've been making this butternut squash carrot soup a few times this fall. Learn more about its creation in the note at the bottom. If you are creative, you can serve it in a pumpkin along with a pea soup by its side. I didn't do the pumpkin.
Squash Carrot Soup – Ingredients
1 butternut squash (or one half if quite large)
4 -8 carrots, peeled and cut in circles
1 leek
1 small onion or 1/2 large onion
1 tsp. allspice
1 tsp. cumin
salt and pepper to taste
olive oil or coconut oil for sauteing the onion and leek
A few small leaves of fresh rosemary (optional)
1 tsp. chopped fresh ginger root (optional and recommended – I left it out because my daughter doesn't care for fresh ginger, sigh)
Peel the butternut squash. If really large and you just soup for 4 people, you might consider using just half a squash. Cut in half, and pull out the seeds. Place in a pot; fill the pot with water to cover the squash. Let it cook. Meanwhile, slice and cut 4-8 carrots – even more if you have the energy. Note: this was originally a carrot soup alone – see note below. Add the carrot circles to the butternut squash with water that is cooking. Next: get a pan ready to saute the onion and leek. You can saute in olive oil or coconut oil – whatever you prefer. Chop the onion and leek finely first and add the oil to the pan. When the pan is hot (add an onion piece and watch it sizzle), add the onion bits, stir for a few minutes, and when the onion is tender, add the chopped leek. After sauteing for about 10 minutes, add the leek and onion to the pot with squash and carrots. Add the spices (allspice, cumin and ginger if using). Add a bit of chopped, fresh rosemary if using. Let the squash soup cook for about 1/2 hour. Then either use an immersion stick directly in the pot to blend the soup, or transfer the solid parts of the soup to a food processor, blend it and transfer back to the liquid. The advantage of the latter method is you can add less liquid if you want and have a thicker soup. I do the food processor method. Serve warm, although if you are quite hungry, it tastes OK room temperature, too. Enjoy!
Note: this was originally just a carrot soup. My neighbor told me verbally how to make it. She had made it along with a pea soup, and she served the carrot soup along the pea soup in a pumpkin. Yes, each of us had our own pumpkin as a bowl. It was yummy – even my daughter ate it. So this soup developed because my daughter wanted a carrot soup. However, the carrots I had when I first made it were organic and thin. I would have had to have peeled at least 20 or 30 to get a substantial soup. So I changed it to a squash/carrot soup so it would stay orange. My first attempt had two leeks, not enough carrots, and turned green. Green is a fine color for a soup, but not a fitting color for a carrot soup.
Soup Reaction – What's in Your Soup?
Have you ever made a similar soup? What ingredients did you put in? Did you use any particular cooking methods?
Tech notes: if you look at the bottom of this post, you will see a link for both the category for recipes and tags for other carrot recipes or carrot topic posts. If you click on the recipes category, you will see a list of clickable tags in all the recipe posts. Starting now, at the end of each post, I will attempt to write a little about blogging that might help some up-and-coming blogger out there.