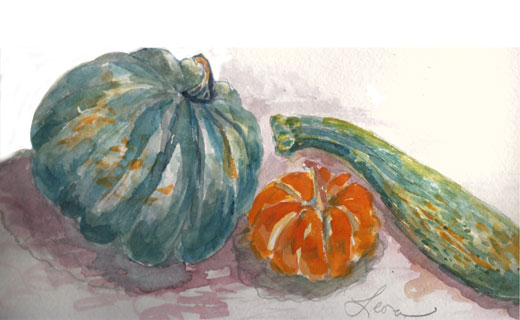 Autumn – it has arrived. Time for a new stuffed squash recipe!
Ingredients
2 acorn squashes
1 large yam (or sweet potato) or use 2 smaller ones
(what's the difference between yam and sweet potato)
6-8 garlic cloves, peeled
1 Tbsp. chopped ginger root
salt and pepper to taste
3 fresh basil leaves (optional)
Bake the acorn squashes whole until they are easier to cut in half. After about twenty minutes of baking, cut them in half. Continue baking until the squash is soft – you can test it with a fork. It took a little over an hour in my oven at 350°. Peel and cook the yam(s) in enough water to cover. Peel the garlic cloves, and cut off the ginger root peel. Cut the ginger root into little pieces. After about 15 minutes of cooking, add the garlic cloves and chopped ginger root. When both the yam(s) and garlic cloves are soft, remove them from the heat and cooked water (I used a slotted spoon). Mash in a bowl, and add salt, pepper and a fresh, chopped herb (I happen to have basil from my garden). Pile scoopfuls of this orange mixture into your baked squashes. Warm before serving.
On the one hand, this recipe takes a while to make because you have to bake the acorn squashes first. On the other hand, you can do it when you already have the oven going, and you can do it a day before you plan to serve the stuffed squash with yams. It's an easy recipe.
• • •
This recipe was served at a dinner with other blog dishes. Laura and family came for lunch on the Jewish holiday of Shemini Atzeret, and she made her Five Grain Three Seed Gluten-Free Sesame Sticks and Two Tone Brownies by Mrs. S. We also enjoyed these homemade Kit Kat bars (though my daughter did not because she dislikes peanut butter), and I made Apples 'n Honey Cake from Hannah's Nook. I also made a pea salad (I used a bit of fermented pickle juice in the dressing – not part of my original recipe), beet salad and a version of my potato salad (this one did not have peas – I haven't used peas in potato salad in a while). Update: here is the recipe for curried beans.