Watercolor: Carrot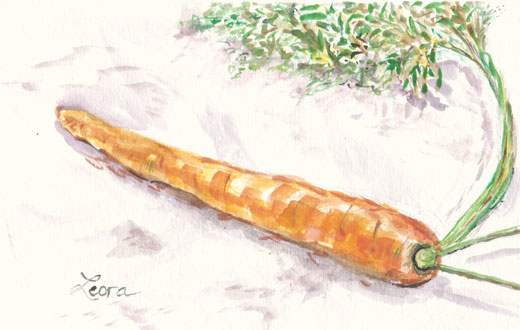 Here's my carrot watercolor. I used both watercolor and gouache.
Carrots are traditionally eaten on Rosh Hashana, and a "yehi ratzon" is said on the carrots:
"Yehi ratzon milfanecha she-yikara roa gezar dinneinu, v'yikaru lfaneacha zakiyoteinu"
"May it be God's will that the evil decrees against us be torn up and our
good merits be read out before You".
The play on words here is the Hebrew word 'gezer', which sounds like gezairah, the Hebrew word for "decree."
The same "yehi ratzon" will show up again for squash, as the Hebrew for squash is kra, which sounds a bit like the Hebrew for "tear up."
I discovered that some display carrots in slices to resemble coins, as we hope for prosperity in the new year. You can read more about the history of these food symbols from the Rebbetzin's Husband.
A traditional dish made with carrots that one might eat on Rosh Hashana is tzimmes. Some recipes (I haven't tried these, no endorsements here):
I prefer mine plain (naturally sweet!) and raw. The tsimmes salad sounds best to me, though it seems a stretch to call that recipe 'tsimmes'.
Finally, a request to all pomegranate lovers: if you find a link to a pomegranate photo that you like, please leave the link in a comment. I'm going to have to work from photos in order to paint a pomegranate.