Comments for Images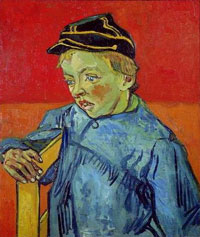 A reader wrote to me saying she is never quite sure how to comment on an image. I realized that my many years of art training helps me comment on photography and art. So I'm hoping that with this post we can help those who would like help with imagery commenting ideas. If you have suggestions to offer, please leave some in the comments. I may add to the post with some of your ideas.
Using a list of formal elements I learned from an art teacher, here are some ideas:
Medium and materials: what did the artist/photographer use to create the image? One could ask a question or comment about the camera, the lighting, the photo editing software.
Composition: what is placed where in the composition? How is the rectangle (if it is one, and it usually is) broken up? Example: "An expected composition, with a diagonal going down one side where one would expect a vertical"
Color: is it one color? Many colors? Bright colors? Contrasting colors? Do they colors appeal to you? Example: "Love the combination of purples with reds and greens"
Light: What is the light source of the subject? How does it effect the overall presentation? Is it warm, cool, natural, artificial?
Style: Does it remind you of a certain style or school of artists? Is it realistic or fantasy-like? Pop art? Classical?
Depth: How far back does the photo/painting take you? Are you close to the subject or far away? How did the artist achieve those results? Example: "Wow, that field is vast" or "the dog looks like he's going to jump right out of the picture and unto me!"
Motion: Did the artist/photographer create motion in the image? Does that feel good or make you dizzy?
Theme, Mood: Is there a basic theme to the image? Loneliness? Glee? Serenity? Chaos? Disconnect? Family bonding? If you think a photo has a certain theme, you can ask if that's what the photographer intended. Or just say, "serene", if you are staring at a calm lake surrounded by colorful fall trees.
For further reading:

Formal Visual Analysis

Composition and Design Principles
If you would like to test out some of these descriptive ideas, you may comment on the painting in the upper right corner by Van Gogh. Click on it to see a larger version and more information.