Hospitality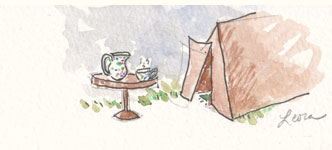 In this week's parsha of Vaera we learn about hospitality, known in Hebrew as Hachnasat Orchim, welcoming guests. We have two examples of hospitality, one as Abraham welcomes three men (it does not say angels in Genesis 18:2) and another of Lot, who invites two angels to visit him.
How is Abraham's hospitality different from that of Lot? For one, Abraham welcomed three men whom he saw as wanderers, not as angels, whereas Lot invited in angels. Rabbi Frand (from Rabbi Frand on the Parashah 2) differentiates the two greetings; Abraham welcomed men wandering through the wilderness, Lot was only welcoming because he saw angels. But at the same time, Lot had learned something from Uncle Abraham's example.
Rabbi Frand writes:
Lot…saw angels. Lot was hospitable, but he wasn't going to have just anyone at his house… Lot had learned enough from his uncle Avraham to invite the angels in, but he had not learned a most important lesson: you don't handpick your guests. True hachnassas orchim is to make everyone feel welcome at your home, angel or human. And human, we might add, applies to all humans, even those that come from the less genteel segments of society.
Rashi brings another difference in their hospitality. Abraham requested that the travelers remove the dust from their feet first and then enter. Lot invited them to enter with dusty feet. Abraham saw his guests as worshipers of dust and did not want to bring their idol worship into his home. Lot, on the other hand, knew that the people of Sodom objected to Hachnasat Orchim so to protect the visitors suggested the guests remain with dust on their feet so it would appear as though they had just arrived.
I do like having guests over, though I can't say I always feel up to it; some weeks I feel more inclined to entertain than others. But I do welcome my daughter's complaint when we don't have guests ("no guests this week?" she has been known to say). I like that she appreciates Hachnasat Orchim, welcoming guests into our home.
Finally, I struggle with Rabbi Frand's idea of welcoming anyone into one's home. Anyone else have their doubts or thoughts about this?