Leah and Rachel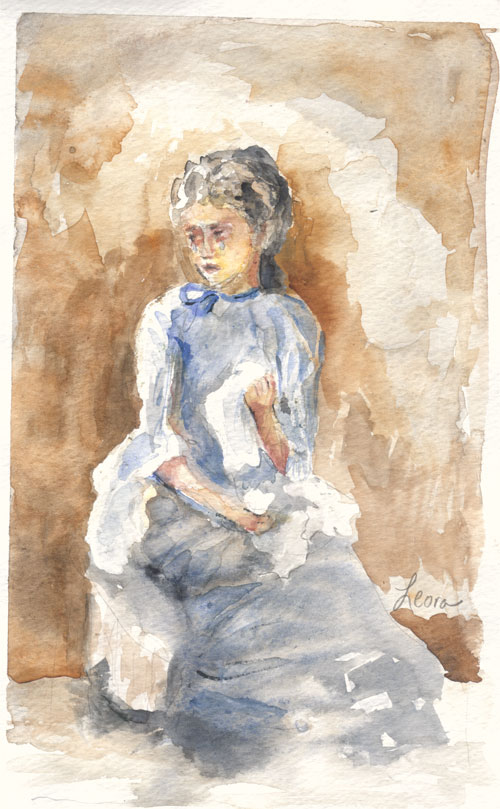 וְעֵינֵי לֵאָה, רַכּוֹת
And Leah's eyes were weak (Genesis 29:17)
Poor Leah. She cried, because she thought she would get stuck with Esav (Rashi says weak eyes meant they were weak from tears). Instead, she married Yaakov, but she knew that he really loved her sister, Rachel, best.
On Wednesday I asked how Rachel helped out Leah, and how Leah helped out Rachel. Here's Rashi's explanation:

Rachel had signs from Yaakov to show that it was she and not someone else when they got married. However, Rachel taught the signs to Leah, so Leah would not be embarrassed.
Leah helped Rachel out by praying for a girl when she was pregnant with her 7th child. She knew that Yaakov would only have 12 sons, and Bilhah and Zilpah already had 2 each. She wanted Rachel to have at least two sons.
As Lion of Zion pointed out, there are also interpretations that say Leah and Rachel were not so nice to each other. But that's a subject for another post. Maybe next year.
(One more thought: as I tend to prefer a commentary that is sympathetic to the matriarchs, especially to their sadness, as opposed to one that might highlight cattiness, I'm not sure I'm gonna like these other views).
More on this week's parsha of Vayetze:

Ilana-Davita writes about how human the personalities of this parsha are; strong emotions are part of our lives.
Special thanks to Winslow Homer for his help with the watercolor painting.