Sauteed Mushroom Salad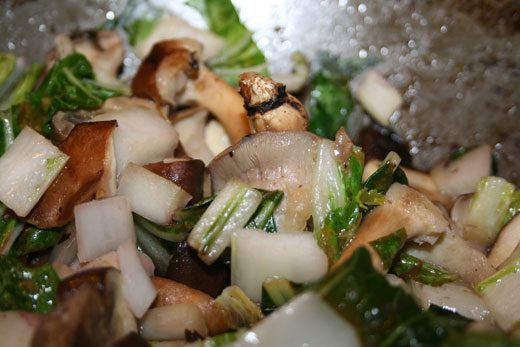 For this sauteed mushroom salad, I used two kinds of mushrooms: baby bella and shiitake. You can choose any two types that are available to you. Shiitake mushrooms in particular have healing properties.
Ingredients:
2 boxes of mushrooms, 2 different types (shiitake and baby bella, for example)
1 tsp. olive oil
lemon juice to taste
salt and pepper to taste
1 head of bok choy, chopped (optional – you can substitute other greens)
Sauté the mushrooms in the olive oil for about 15 minutes and until the juices of the mushrooms begin to flow. Add bok choy or other greens (chopped kale, chopped collards, parsley or cabbage are all possibilities to try). Add lemon juice, salt and pepper. Cook until the bok choy softens. Serve warm or at room temperature.