Interview with Elke Reva Sudin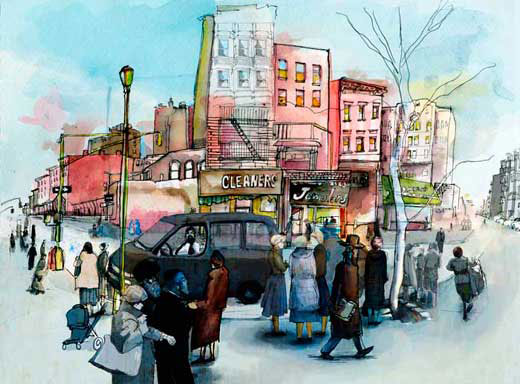 How did you get started doing art?
I have always been an artist. It is a personality disorder that somehow becomes acceptable when channeled through pen on paper.

What was your childhood relationship to art?
Crayola
What is your training?
Growing up I had very little access to art or the artistic mentality. My parents are not artists and growing up in a religious school with no art program did not help either. I did what I could on my own but it was not until the age of 16 when I attended a pre-college program at the Rhode Island School of Design (RISD) that I understood for the first time how representing subject through mark making could be such an enlightening experience.
College furthered what I had gotten a taste of in pre-college. Each of my 4 years gave me a deeper understanding of how any art is conceived, designed and constructed. I received a BFA in Illustration at Pratt Institute, an art and design college in Brooklyn.
What motivates you to do art?
Drawing from life. I enjoy the experience of translating one mode of experience into another. The illustration is an end product of my excitement to study and reflect without too much questioning during the process.
What in particular do you find difficult about doing "Jewish" art? Any conflicts?
The problem with "Jewish" art is that Judaism is built on the concept that God is infinite and we are contained within God. Therefore all our our earthly experiences are illusions because everything that we see as being separate, is really one unified entity. Whenever I attempt a "Jewish" art piece, it seems pointless to show material garments, ritual items and customs, because those only exist for us to find a way to connect with the ephemeral. It boils down and boils down until not even a blank white piece of paper to gives off true meaning. There is a reason we are commanded not to make graven images, people get absorbed in the image and not the meaning. I think this idea has helped Judaism survive for so long by the fact that no matter where we are in the world, we as Jews have no attachment to ritual as connected to physical things. The idea survives even when large portions of the population is wiped out.
My connection to Judaism is through action. So it is rather my process of creating the art, in which I connect to the infinite connections and acknowledging the spiritual path that it follows, that bring me to an end product which I feel is Jewish. Because there is no separation between my being and my artistic product, the product is inherently spiritual.
What would you suggest to someone who wants to learn art? Illustration?
The best advice I can give is to draw from life. Often times we draw from experiences, but our memories have a funny way of selecting what we remember, which is very limiting. Drawing from life opens up the artist to nuances and connections that would be otherwise hidden. Using our hands, we as artists have an easier time connecting to different parts of our brains, resulting in "happy accidents," and allow us to take something physical and transform it into something representational and meaningful.
I studied illustration because it takes the principles of art and design and applies them in a more directed setting suitable for performing commercial work compared to what is generally taught in the contemporary fine art educational setting. Direction is important, because without focus artists tend to turn to their own desire to be admired by others, rather than contributing their abilities to the enlightenment of the public.
Can you tell us about the Hipsters and Hassids project?
I constructed an illustrated book titled "Hipsters and Hassids: The Youth of Williamsburg North and South." It is an investigative illustrative study which discovers the surprising similarities these seemingly polar opposite communities have in common. I went inside the neighborhoods, with a strong focus on the Hassidic side, particularly concerning the women, to see first hand what life is like behind the surface is like. One of the biggest misunderstandings (and commonalities) is that both sides are so off-putting. On the Hipster side they sell their look and lifestyle as a product. Life is valued by the self absorbed fascination with the party, the outfit, and obscure references to music and culture, but lacking any meaning which had once held strong associations to those things. On the Hassidic end of things they are very protective of preserving their customs and way of life and outside influences are harmful in that respect. The truth is that people are the same everywhere, there will always be people open and close-minded, self absorbed and absorbed in other things, those of respect and those who bring shame to the human race, but the important thing is to remember the unity that all people share. We are all a part of this world for a reason and an obsession with particular fashions just aint it.
Elke is looking for publishers and those interested in self-published copies.
selections from the book are featured here:
http://www.elkerevasudin.com/portfolio/williamsburg.html
Please check out her website: http://www.elkerevasudin.com
and blog updated constantly with new illustrations:
http://www.elkerevasudin.com/blog.html