Nature Notes: Birds in Back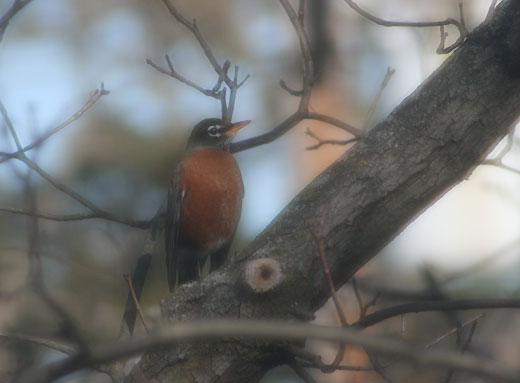 It seems the time to see birds in my backyard is midday on a warmish day after a cold spell. Then they come in groups. All of these photos were taken through a window, so they are a bit fuzzy. The robins were bouncing around from tree to tree a few days ago.

A male cardinal was in the far end of my backyard. The telephoto lens on my camera allowed me to see this little guy.

I don't often see blue jays in my backyard, but last week a group visited. They had a female and a male cardinal with them, too.
I wasn't the only one birdwatching; I got a fuzzy photo of the neighbor's cat, but you've all seen a cat before. This one was just lolling about in my garden, watching for possible prey. I bought a bird feeder in a sock at the supermarket (that I haven't seen touched by bird or squirrel), and I found a window bird feeder online that I will order soon. After I get some work done.