Nature Notes: Cardinal Watercolor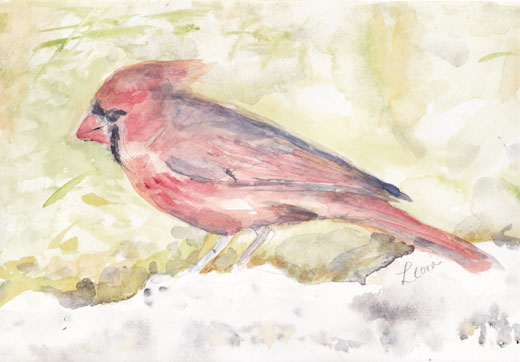 Yesterday, when it was warmer and almost spring-like, I saw many birds on my block, including a hawk flying low. Today there are big, white fluffy flakes coming day outside my window. By necessity (I need to pick my kids soon, early dismissal due to the weather), this will be a short post. Note the bill and the plume of the head (thanks, Michelle and Lorri).
You can see the drawing of the cardinal on last week's post. Thank you for giving me the opportunity to take out the paints.
For more Nature Notes, visit Rambling Woods:

On a related note, it is a custom to feed the birds the week of Parshat B'Shalach. Of course, the birds might want to be fed other weeks as well. Cardinals like sunflower seeds.