Nature Notes: Why Draw a Bird?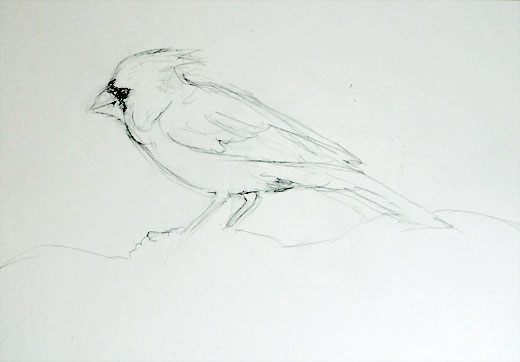 If you have a camera, why would you want to draw or paint a bird? With a camera you can capture all the details you need. Why learn how to draw?
When you are drawing, you concentrate on every detail of what you are looking at – the colors, the texture, the shapes, the depth, the values. And when I drew the bird (it's going to be a cardinal – wait until I apply the paint), I learned about how the head, body, tail and feet are shaped. And I had to think about how to present the textures of the feathers.
Look forward to showing you the finished painting. Oh, and another reason to draw is your daughter (or son) might then take out her own piece of paper and draw her own bird. I just might show you the bird that my daughter drew as well.
For more Nature Notes, visit Rambling Woods: