Review with Carrot Watercolor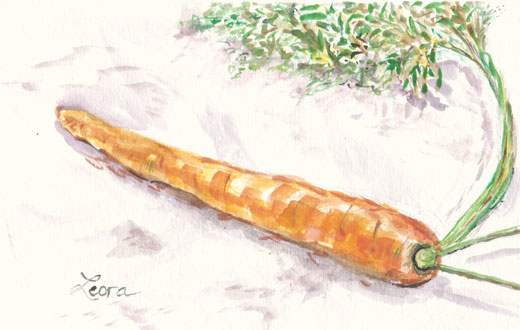 Rosh Hashana, the Jewish New Year, is in less than one month. So I started looking at past posts I wrote about the holiday. I have an idea for a new way to present the simanim (symbols) – I plan to post it next week.
On My Blog

– Agnon, Joyce, Woolf and Kafka
– What Happens When You Raise Taxes
Elsewhere in the Blogosphere
I read Nomad by Ayaan Hirsi Ali – she has led a difficult life, and what she has to say is not easy to hear, but she is a good writer and her story is gripping. I read the book in only two days. I can't say I agree with her conclusions, but her story of growing up in Somalia, Kenya and Saudi Arabia, then running away to Holland because she doesn't want to marry the man her father has chosen for her is quite a tale. I amazed that she has made it as far as she has in life (at one point, she was a member of Dutch Parliament; now she is a fellow at American Enterprise Institute).