Shamash, Nibbles and On the Blog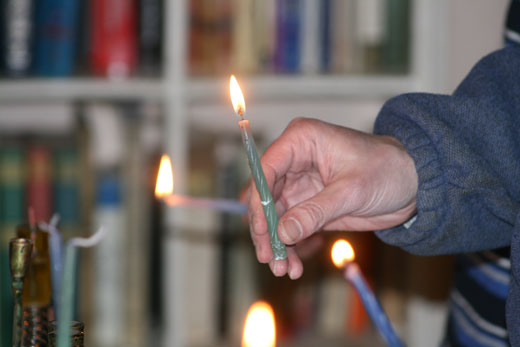 Chanuka is over, until next year, but I still have photos to share! This one is of the shamash; my husband and my three children are all holding their own as they say the bracha (blessing) before lighting the candles. The shamash is the helper and does not count as one of the 8 lights of Chanuka.
Yesterday I went to a lovely party. Some child had taken a whole plate of fancy chocolate candies and had nibbled exactly one bite out of each one. My friend the hostess was not amused. She considered putting up a sign: for adults only. I said maybe the parent should eat the candy if the child wants to try. Of course, then my daughter took one bite of a chocolate covered marshmallow candy without realizing it was marshmallow, and I had no interest in eating it. What do you think?
I loved this: do you hear in your house – "Are you going to put that on the blog?"