Nature Notes: Asbury Gulls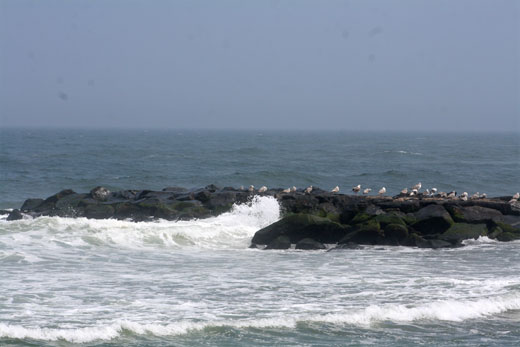 There are many gulls sitting on these rocks at the Asbury Park beach. But you will see at the end of the post, the humans out number the gulls.

One lone gull (is he a gull? See this list of sea birds) flies away from his friends. This one appears brown.

A brown gull flies by the active waves. Crafty Green Poet writes: "the brown bird is probably a young gull, most species of gull have I think three years in brown plumage (slightly different each of the years) before they take on adult plumage" – thank you!

A few brave souls sit on the rocks at the beach. My kids both went dunking into the freezing May waters. I just put in my toe. My husband relaxed on the beach – too cold for him.

This photo should give you an idea of how crowded it was on the beach. And economically, this is good news. Asbury Park was very depressed in the past thirty years. My husband grew up in this area, and he saw the decline. About one hundred years ago, it was quite a fashionable place. People may no longer walk in fancy dresses and suits, but the new restaurants and shops are upscale. I hope the gulls don't mind.
Pictured in the crowded beach photo are the Asbury Park Theatre (see it in my Asbury post from last year) and the Berkeley Carteret Hotel.