Honor the Elderly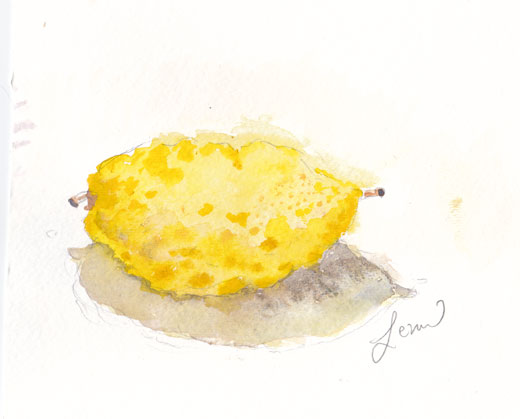 What is beauty? Is it the Doryphorus, as the Greeks believed, the young man with the slender, slightly bent posture? According to Judaism, strangely enough, the elderly are considered beautiful, as it says in Kedoshim 19:32 –
"Rise in the presence of the aged and honor the face of the old man"
מִפְּנֵי שֵׂיבָה תָּקוּם, וְהָדַרְתָּ פְּנֵי זָקֵן

Honor the face of an old man could also be translated as "ascribe beauty to the elderly." Who has knowledge like an elderly person? Who has overcome so much and come so far?
Note the word used here: hadar. Hadar is also used to describe the etrog. Unlike other fruits, the other "lives" for a long time on the tree and does not fall off on its own. The word in Hebrew is dar, similar to hadar. Does the etrog watercolor remind one of an older person? How?
(Credit for these ideas goes to Rabbi Bassous, for helping me remember parts of his speech to my husband, and for help with locating the pasuk to my middle son).
In honor of my father, my favorite elderly person, and in memory of my aunt, my father's older sister who died earlier this year and who lived admirably as an older person (she was also an artist). In memory of my dear mother – her yahrzeit is next week. And in memory of Linda Greenberg, who tragically lost her battle with cancer this week and will never experience old age.