Mayor of Highland Park is Affirmed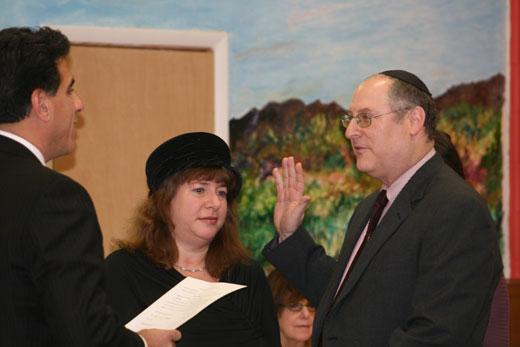 On Tuesday night Highland Park, New Jersey was sworn in affirmed – Mayor Gary Minkoff. I say affirmed because when past mayor now freeholder James Polos (on the left in the photo) said to Gary, do you solemnly swear, Gary corrected him and said "affirm." I suspect this is for religious reasons, as Jews have strict rules about when we can "swear."

When Elsie Foster-Dublin (above left) was sworn in, she clearly said, I "solemnly swear." Outgoing mayor Steve Nolan is pictured on the right. Twice in the evening he got a standing ovation for his work as mayor.
"I promise I will have everyone out of here by Friday."
Thus began Gary as he gave an (acceptance?) speech on Tuesday night. And thus I will state that I can't repeat everything everyone said that night, but I want to summarize a few of the annual reports. Another point about Gary (you can find him selling cheesecake on this post – he is multi-talented; and marching in the Memorial Day Parade here) is he likes to tell jokes, to be personable, to make people feel comfortable. It should be interesting having him as our mayor.
A few highlights of the Annual Reports
Each councilperson talked about their areas, and I will state briefly some highlights.
Padriac Millet: Padriac talked about Raritan Avenue area improvements, such as rain gardens (? not sure what they are but we will find out) and living room areas (glass tiles, benches, lampposts, streetscape) and 75 new trees. There were also new regulations such as curb rules that caused delays in construction.
Elsie Foster-Dublin: After twelve years there is finally a traffic light at the corner of Duclos Lane. The Senior Center has some great programs, including Chinese. Because of budget cuts, Sunday hours have been eliminated at the Senior Center. The library has shown an increase in programs and may be receiving new fiber optic connection (I remember how slow my connection became as I gave my recent talk about Facebook).
Jon Erickson: Jon oversees the Highland Park Environmental Commission, Shade Tree Committee and Public Works. Highland Park now recycles once per week, and from this, the borough earns $35 per week (did I get that right? That doesn't sound like a lot). One can now recycle pizza boxes and rigid plastics like laundry baskets. He also mentioned some Meadows trails repairs.
Gayle Britt Mittler: Gayle talked about all the wonderful volunteers she has on her committees, like the Health and Welfare and the Board of Health. An anti-fracking resolution was passed by the Board of Health. The Human Relations Commission and the Food Pantry were also active; the Food Pantry may soon be able to stock meat in addition to the current soups and vegetables.
A bit of Gary's remarks
Gary Minkoff talked about how Highland Park, Michigan had to remove street lights because of budget cuts, but Highland Park, New Jersey has managed financially, with budget cuts, even in these difficult economic times. Gary made it clear that he is a product of the public schools, and he supports the public schools. He also thanked the first responders (police, fire, first aid squad), mentioned a possible business breakfast and teen advisory council, and he said, we need focus. We can't do anything without focus.
And with that, class is dismissed from reading this long post.