Portrait of the Artist as an Older Person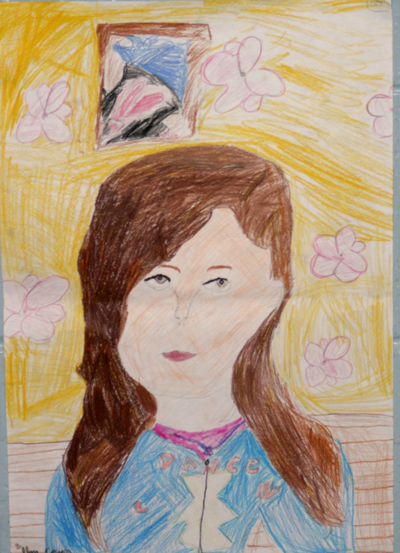 The school art assignment was to draw oneself as an older person. This was my daughter's execution, which she proudly displayed at her school art show last night.
As for myself, I'm trying once again to take a breath by blogging. I admire Robin's style, in which she both displays nuns in tan and discusses her plumbing traumas. My events of the week involved two down servers, both effecting sites that I work on, both now back up and running again. Is it the season to upgrade PHP perhaps? In one case I called the help desk; the line declared a fifteen minute wait. I hung up, then called back a few minutes later, thinking, I can wait fifteen minutes to find out what the problem is. The line then declared a one hour wait. I waited until the next day, until it was fixed. But then the other server went down, and that one I had to report about ten times before they fixed all the issues. Such as is the life of a webmaster (webmaven?).
Upcoming News: Blogging Workshop at Highland Park Public Library on June 12th – OK, experienced bloggers, what shall I cover? The public is invited.
I scheduled the next JPiX for June 24th (originally had been the 17th). You can learn more about JPiX and submit your posts here.