Teacup Watercolor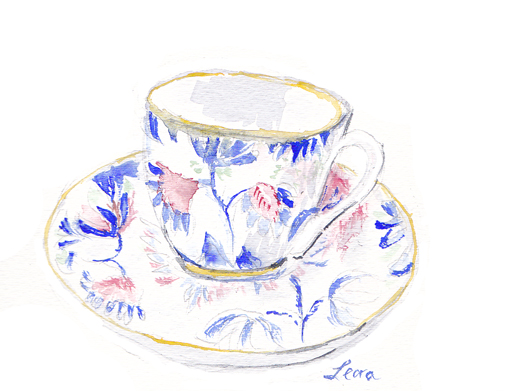 I love the opportunity to paint. Finally, I had both a bit of time (I just put my work on hold for an hour) and some incentive (I wrote a post on guest post submissions, and I needed an illustration). I wanted an illustration that would resemble hospitality. At first I thought of a comfortable chair. Then a cozy teacup come to mind. It took less than an hour for me to produce my teacup watercolor.
Here is the story behind the tea cup. I've been cleaning out my father's apartment. My daughter and I found a lovely tea cup; I assume it once belonged to my mother? I don't remember it from childhood. It must have stayed in the china cabinet. We (my daughter and I) drink tea much more often than I did as a child (our favorite is green tea with mint – do you like tea? What kind?). So every so often my daughter says, can I please drink from a teacup? And sometimes I say yes.
Looks like one can say both tea cup or teacup. But there is no word 'coffeecup.' Besides, I drink coffee from a mug.
Below is the version I used on my guest post submissions rant – I do want to welcome people to my blog, either of my blogs, actually. But you will need to know how to spell teacup.