One Drawing Per Week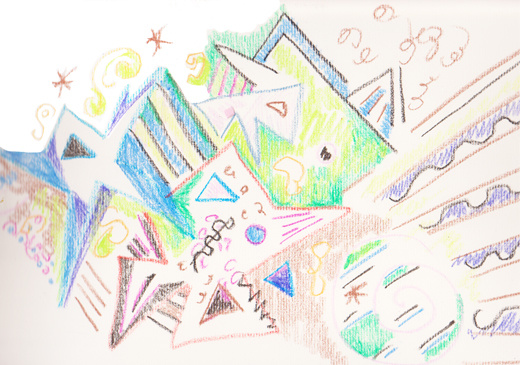 Book Review: One Drawing a Day
I took a wonderful book out of the library called One Drawing a Day. The book, written by artist Veronica Lawlor with the help of other artists, has over 42 drawing exercises, some color, some not, some outside, some for at home. I soon discovered that there was no way I was going to keep up with a drawing every day, so I am trying to content myself with one drawing per week, as the title of my post suggests.
There is an accompanying blog to go with the book, also called One Drawing a Day. However, it seems to be examples of drawings as opposed to more exercises, so if you want the exercises, get the book. I may just need to purchase the book, because there is only so many times I can take it out of the library.
The exercise on the top was done with children's crayons. It is called a Child Could Do This – you are actually supposed to ask a child for suggestions. I just sorted out some of my daughter's crayons and used those. Scribble and make shapes a kid would make was part of the suggestion.
Below is a sketch of a family member on the computer: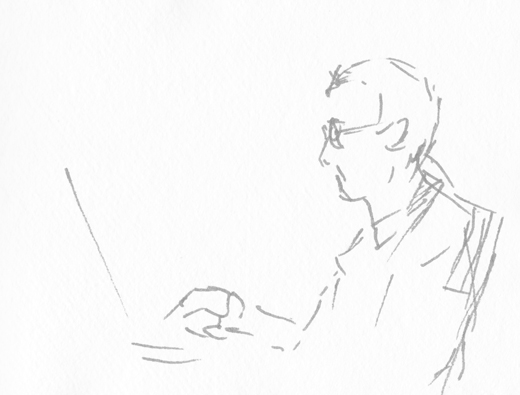 You are supposed to concentrate on the person you are observing and not spend all your time staring at your paper. I did the sketch with a drawing marker.
This was the very first exercise in the book, observing objects in one's home: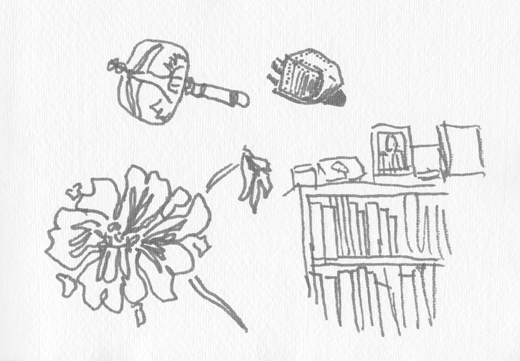 The flower was actually a design on our sofa cover. What objects do you see?