Andromeda in Snow, Reds of Female Cardinal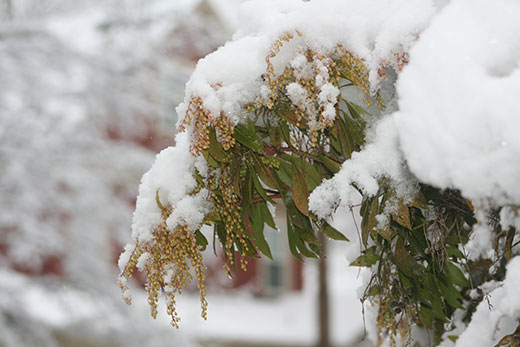 My andromeda shrub has not seen a lot of snow this year, so it was a delight last Friday when I got a chance to photograph the andromeda in snow. In the spring, the andromeda shrub produces these pretty wedding bell-like flowers. A robin once laid her eggs in my andromeda shrub.
We have gotten little snow this past winter – lots of threats and warnings, but no school has been cancelled due to snowstorms. I love photographing snow scenes, but New Jersey only gives me infrequent opportunities. I grew up in the Boston area, and they got much more snow this past winter. Anyone remember the blizzard of 1978?

The cardinals were content to visit our backyard once again and enjoy the bird feeder and branches.

This shot of the female cardinal shows a lot of her red – unlike her male partner, she is mostly brown, but when you get closer, you can see the pretty bits of red. I think it's quite lovely.

One can see the reds of female cardinal here – love those streaks of red amongst the brown.
I enjoyed this description of the northern cardinal from Cornell's Lab of Ornithology:
The male Northern Cardinal is perhaps responsible for getting more people to open up a field guide than any other bird. They're a perfect combination of familiarity, conspicuousness, and style: a shade of red you can't take your eyes off. Even the brown females sport a sharp crest and warm red accents. Cardinals don't migrate and they don't molt into a dull plumage, so they're still breathtaking in winter's snowy backyards. In summer, their sweet whistles are one of the first sounds of the morning.
I do find my cardinals tend to visit in the cold. I don't see them in the summer.