Spring Brings Striped Purple Crocus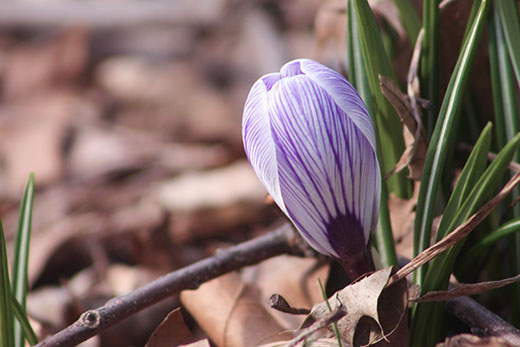 Spring has finally arrived in the form of striped purple crocuses. One of the names of the upcoming holiday of Pesach (also known as Passover) is Ḥag HaAviv or Holiday of Spring. An advantage of Passover coming early this year is the by the time the magnolias and dogwoods are in bloom, our Passover cleaning/cooking will be done, and we will better be able to enjoy the spring buds. Next year there will be an extra month of Adar so Passover will be later in the spring. If we didn't have that extra month of Adar, we might be celebrating Pesach in the winter.
In renaming this blog, I had some ideas of settling into a particular niche. I've read oh how a proper blog should have a niche and stick with it. Well, I fear that may not come to be, as I have all sorts of ideas for this blog, and rarely are they consistently of one sort or another. A friend today gave me a poem she had written several years ago. It is somewhat biographical, and it also alludes some of the difficulties of the Sacrifice of Isaac. So stay tuned for that one. I have in mind to write a review of Ester and Ruzya, a wonderful book. Some ideas for interviews of other bloggers have come into my head on a particular topic – we will see if I follow through with that one. And once I get back to my art group, I suspect that art exercises and sketches will again be topics for blog discussions.
What can one say about a striped purple crocus? It's symbolism seems to be universal, as it often pushes out of the ground before other flowers do (my neighbor's snow drops appeared a while back, however). The word crocus is Greek, and it may have its roots in the Hebrew כרכום karkōm. I am guessing that this is a Crocus vernus.
Happy Pesach to those who celebrate. Happy Easter to those who celebrate that holiday. And happy spring of crocuses, forsythia, tulips and daffodils and whatever grows in your part of the world to all.