What Artists and Writers Share in Common
I have been reading a lot of writers' websites. I've noticed as they make their lists, I often say, yes, artists think that way as well. For example, A. K. Andrews asks, Can Your Computer Drain Your Creativity? One could certainly make this argument for writers or visual artists. In this post, I'll explore what artists and writers share in common.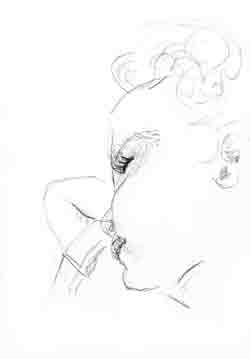 Here is my list:
If you don't write, you won't have good or bad writing. So write. If you don't draw, you won't have a good or bad drawing. So draw.
Creativity drives the work of both artist and writer. Artist's block or writer's block can hamper that creativity.
Artists and writers can both make use of blogs as platforms to show their work.
Inspirational exercises can stimulate both artists and writers.
A blog can be used as a platform to teach art or writing. An artist or a writer can thus demonstrate their skills.
Artists think in images. Writers think in words. Both tend to hyperfocus when at work.
An interviewer asked Hemingway, why did you rework the ending so many times? What was it that stumped you? He replied, "Getting the words right." An artist in a similar fashion can rework a painting many times, especially one or two details.
What do you think – what do artists and writers share in common? How are they different?
Note on the drawing: I found the drawing of a young girl in a sketchbook – it must be from almost ten years ago, when my daughter was a toddler.