Fishing at the Raritan River: Man and Boy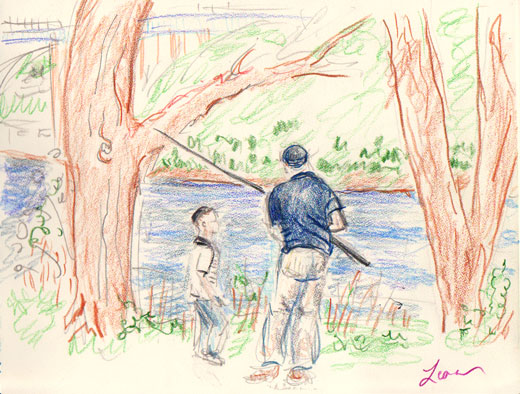 It's been a while since I posted a bit of art. I took a photo of a boy talking to a man fishing by the edge of the Raritan River. I decided it would make a nice subject for a painting, so I did this sketch with colored pencils. It has a similar feel to the watercolor I did last summer of two men relaxing by the Raritan River (presumably, they had been fishing at the Raritan River before relaxing).
When you look at the boy and man, what do you imagine is the relationship between the two? I'll let you in on the setting: it was taken at the community Lag B'omer event (the 33rd day of the Omer, a day of celebration in the Jewish calendar) in Donaldson Park. I'm assuming the boy was there because of Lag B'omer, and the man just happened to be fishing nearby.
I also started working on an "urbanscape" – a painting of "downtown" Highland Park, basically a piece of Raritan Avenue. I'm not terribly happy with the composition, so I may put it aside or work on one piece. I have three busy weeks ahead, so I will have little time to do art for a while.
Happy Mother's Day to those who celebrate. Happy Shavuot to those who celebrate. Enjoy a beautiful spring day, if you are lucky enough as we are in New Jersey to have a gorgeous one outside.