Photographs Near Dusk or Dawn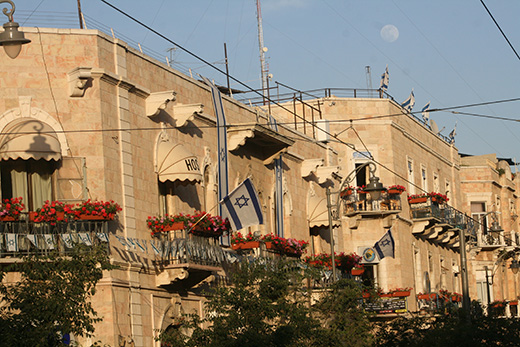 What do these photos of Jaffa Street (Rechov Jaffo) in Jerusalem and (below) one of the Moorlyn Theater in Ocean City, New Jersey have in common? They were both taken as the day moved away from dawn (Moorlyn Theater) or towards dusk (Jaffa Street shots). If you photograph closer to dusk or dawn, you will often capture beautiful, golden light. Back in 2009, a reader described, regarding a photo of the U.S. Consulate in Jerusalem, "the late afternoon quality of the light." Ever since then, I've been more conscious of capturing photos during those golden hours of the day.

The Moorlyn Theater is on the boardwalk in Ocean City, New Jersey. They feature both movies and live shows. This photo was taken the morning my daughter and I woke early for sunrise.

Here is another shot of Jaffa Road in Jerusalem on a late Thursday afternoon in May. Note the tracks for the lightrail and the many people walking the streets. Thursday night in Jerusalem is a bit like the American Saturday night, as people usually don't have work or school the next day. There is a sharp contrast of the golden basking glow of the apartment buildings and the shadows of the street area.
For more skies, visit Skywatch Friday. Hoping to link this up to Toby's Whimsical Windows, Delirious Doors as well.