Jewish Holidays and Nature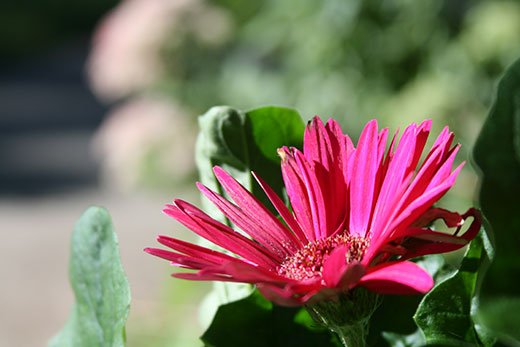 It is Jewish holiday season, and ideally, I would be writing a lovely post about how the Jewish holidays are related to the seasons. In reality, I feel I am constantly preparing for the next holiday (in between having more than plenty of web work). The flower above is one of the gerber daisies my daughter gave me for Mother's Day (with my husband's help), and I have managed to keep it alive for the whole summer. Yay, me.
The upcoming holiday this week is called Sukkot, and we do indeed interact with nature. Here is the little booth called a sukkah that we eat meals in for seven days. We cover the top of the sukkah with light natural material called schach, and through this natural material we can sometimes see stars at night. Some people actually sleep in their sukkah.

Here are some of the decorations inside our sukkah. This is from last year – on Wednesday, it will be a mad rush to finish cooking and decorate the sukkah. In New Jersey, it often rains, so we don't want to decorate too early. Hard enough to keep the decorations going.

This was our old sukkah, that we no longer have. It took too long to put up, so my husband gave it away. We now have a pre-fab sukkah, but I can't paint the walls. I have to decorate with this velcro tape. I don't enjoy that as much.
As this post is related to nature, here are some not yet shared nature photos from Israel:


Those are rocks on the top of Mount Meiron. Learn about my hike on Mount Meiron.

Love these delicate pink flowers from Mount Meiron. No idea what they are. Any guesses? Update: might be a bindweed – convolvolus oleifolius.

These trees had bright red blooms in front of the Tel Aviv Museum last May. Any guesses? Flame tree (Delonix regia)? Seems quite similar to the red trees in this Tel Aviv image. Tel Aviv in late May probably has a similar climate to southern California (maybe warmer and more humid).
Getting back to Jewish holidays and nature, the holidays follow the lunar calendar. So the moon is important. Tonight my daughter noticed the moon looked quite full, but it's not quite the 15th of the month. It's 13 Tishrei, so I suppose that is close. This year Thanksgiving and Chanukah will coincide, but according to this post, it will not happen again until … year 79,811. Will you be around to celebrate?
For more Nature Notes: