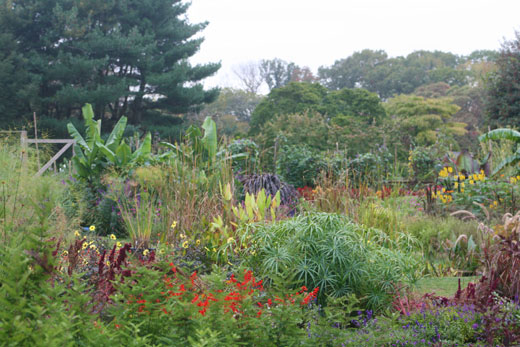 Last week I had the pleasure of visiting one of my favorite places in central New Jersey: Rutgers Gardens. Rutgers Gardens is maintained by staff, students and volunteers. You can learn more on the website for Rutgers Gardens.

There are various garden areas within Rutgers Gardens. The one above with the bench is part of the rain garden. Vegetation in a rain garden area needs to be acclimated to prolonged periods of inundation, followed by equally prolonged periods of drought. From the Rutgers Gardens website:
Rain gardens look attractive when newly planted, but can and often deteriorate over time with the invasion of unattractive weeds and a resulting decline in vigor from the ornamental plantings as they become 'choked-out'. The intent at Rutgers Gardens was to design and develop a garden that had all the positive environmental aspects, yet remained attractive throughout the year with minimal maintenance.

These attractive yellow flowers are part of the Donald B. Lacy Display garden. Wish I knew the name of the yellow flowers (and those red pom ones as well – maybe a kind of Gomphrena – maybe Gomphrena globosa 'Fireworks'). I believe the magenta/purple pom ones I showed last week are Gomphrena globosa. Some of the flowers and vegetables are grown inside a fence with a gate, and the public is not allowed to enter, but it is easy to peek in and view.

One of the great features of Rutgers Gardens are the hikes you can take – we like taking the walk that goes along the Raritan River. There was some colorful foliage but not a lot. I like the pretty colorful reflections in the river.
As I said on the Rutgers Gardens post last week, we saw two chipmunks. Here's one more photo of the chipmunk in the woods: